Founded in 2008, Solbeg provides premium quality IT services to customers across the globe. With extensive technological expertise and wide experience across industries, we develop high-end solutions, helping companies optimize business processes, boost performance, and thereby achieve strategic goals.
We pride ourselves in offering the best and most comprehensive horse racing handicapping software and data available anywhere. To grow in our offerings we're in search of a full stack developer who can assist with the multidisciplinary nature of the project software suite. An ideal candidate will have a keen insight into and experience with developing, bug fixing, and troubleshooting complex programs written in PHP and JavaScript on Linux Apache servers, using a MySQL database. In addition, they should have a proven ability to execute the full life-cycle of product production – from conception to release of data reporting/analytics or related SAAS.
Salary:
UoP: 12 000 – 18 000 PLN brutto.
B2B: 15 000 – 23 000 PLN netto.
Time shift:
Requirements:
3+ years of experience in a technical role supporting BI and data science efforts. This should include application of knowledge in statistics, data wrangling, data visualization, and communication.
3+ years of experience in database development and tools. Ideally, this includes: ETL, data modeling, complex queries, performance tuning, and stored procedures/functions.
3+ years of programming experience using one or more of Python, Java or Scala, C#.net.
2+ years working with Cloud technologies related to Data Science.
1+ years working with Apache Airflow.
Prior experience with using a typical set of tools for building data pipelines: streaming, ingestion, and processing pipelines.
Comfortable contributing to a nascent data ecosystem and building a strong data foundation for the company.
Proven track record of successfully delivering large data-centric projects.
A broad, enterprise-wide view of the business with the understanding of the roles of strategy, processes, and capabilities, enabling technologies and governance.
Strong skills in design and implementation of logical and physical approaches to managing and analyzing large volumes of data with knowledge of best practices.
Understanding of Agile/Scrum development environment.
Strong relationship management skills; able to interface effectively with all organizational levels: users, team members, and management.
Ability to produce high-quality documentation of business and system requirements, system design, data architecture, and training materials.
Experience with data visualization tools such as Periscope is a plus.
Experience managing multiple projects simultaneously with a team spanning various geographical locations and outsourcing.
Experience in leading and/or collaborating with teams spanning multiple geographical locations and outsourcing.
Effective, consistent, and impeccable communication, interpersonal, leadership, organizational, people management, presentation, project management, teamwork, and training skills.
English level: B2+.
Responsibilities:
Collaborates and participates in the design and implementation of robust and scalable data solutions, ensuring all systems meet the business/company requirements as well as industry practices.
Builds modern data pipelines from streaming data services and gRPC/RESTful APIs leveraging open source frameworks.
Champion agile development, continuous deployment and integration, elegant design, and teamwork.
Documents technology specifications and ensures any new technology solutions are optimal for meeting needs; leverages existing technologies when possible.
Translates business requirements into data models that are easy to understand and used by different disciplines across the company.
Works collaboratively with analysis and development teams to create standards and best practices for BI (Business Intelligence) and data science solutions.
Partners with domain business experts, data analysts, and engineering teams to build foundational data sets that are trusted, well understood, aligned with business strategy and enables self-service.
Continually works to improve data reliability and quality and supports ongoing incorporation of new data sources.
Develops quality framework to ensure delivery of high-quality data and analyzes to stakeholders.
Identifies, documents, and promotes best practices.
Troubleshoots and solves production database issues.
Performs other duties as assigned.
We provide:
Modern Class A office in a dynamic downtown location (Twarda, 18).
Flexible Schedule.
Training and development.
Mentor support.
Corporate library.
International projects.
Language courses: Polish, English.
Corporate events.
Team building.
Gifts.
Family picnics.
Charity events.
Great place to work.
Benefits:
Private healthcare (LuxMed Silver).
Sport subscription (Multisport Classic).
Psychological help compensation, mental health support.
4 Sick Days a year, extra days off for special events.
Payments on birthday and special occasions.
Employee referral program.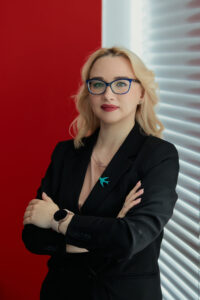 Anastasia Kalosha