Founded in 2008, Solbeg provides premium quality IT services to customers across the globe. With extensive technological expertise and wide experience across industries, we develop high-end solutions, helping companies optimize business processes, boost performance, and thereby achieve strategic goals.
Our project is software for professional musicians' equipment.
Salary:
UoP: up to 16 000 PLN brutto.
B2B: up to 19 000 PLN netto.
Requirements:
Minimum 4 years of professional software development.
Minimum 2 years of experience in developing applications on Flutter.
Good understanding of core OOP and SOLID principles.
Ability to build desktop applications.
Experience in creating complex UI components.
Good knowledge of design patterns, MV*, BLoC/Provider, and Clean architecture.
Experience with the Git version control system.
English at least B1+.
Optional Bonus Skills:
Experience in architecture of highly loaded systems.
Experience in developing applications on desktop Flutter.
BS in Computer Science or similar.
Responsibilities:
Development of Flutter application from scratch.
Development of complex UI with custom widgets.
Application design and architecture.
Ensuring high code quality and application performance.
We provide:
Modern Class A office in a dynamic downtown location (Twarda, 18).
Flexible Schedule.
Training and development.
Mentor support.
Corporate library.
International projects.
Language courses: Polish, English.
Corporate events.
Team building.
Gifts.
Family picnics.
Charity events.
Great place to work.
Benefits:
Private healthcare (LuxMed Silver).
Sport subscription (Multisport Classic).
Psychological help compensation, mental health support.
4 Sick Days a year, extra days off for special events.
Payments on birthday and special occasions.
Employee referral program.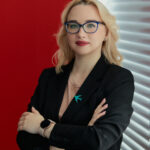 Anastasia Kalosha