Salary:
UoP: up to 24 700 PLN brutto.
B2B: up to 26 000 PLN netto.
Our project:
Our client is a huge Israel fintech company whose project provides financial managers with a whole new level tools for optimizing and control of their corporate payments. Finance operations automation, optimization & control, virtual cards, real time payments and many more. Most of the team are specialists of Senior level. We expect that Team Lead Frontend developer will attend our office in Warsaw to work closely with team members.
Requirements:
At least 5 years' experience in frontend development.
You enjoy architecting and implementing complex web front ends with a clear understanding of performance, security, and maintainability aspects.
Be at the top of your game in at least one framework such as Vue, or Angular, or React, and know your way around modern frontend languages such as ES6 and TypeScript.
Experience with and understanding of different state management solutions (Redux, NgRx, Relay, Akita, etc.).
Fluent English – spoken and written.
Ability to self-learn new skills and technologies.
Motivated fast independent learner and great at problem solver.
Team player with excellent collaboration skills.
Will be a plus:
Experience in backend development.
Responsibilities:
Help lead the design and implementation of the front-end of our product, including large and complex web applications from the ground up.
Build smart, simple & intuitive customer-facing web applications.
Build rich React applications with different state-management paradigms.
Work with highly experienced engineers to tackle tough problems and find creative ways to solve them.
Perform ongoing research and create new features and product ideas.
We provide:
Modern A-class office in a vibrant city center (Twarda,18). Ability to work 100% remotely/from the office/choose a hybrid type.
Flexible working hours.
Flat structure.
Mentor support.
Corporate library.
In-house trainings.
International projects.
Knowledge sharing.
Free coffee & snacks.
Family Picnics.
Charity events.
Benefits:
Sport subscription (Multisport Classic).
Psychological help compensation.
4 Sick Days a year.
Training budget.
Private healthcare (LuxMed Silver).
Mental Health Support compensation.
Language courses.
Employee referral program.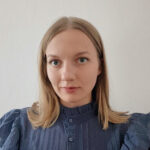 Anastasiya Maroz