Founded in 2008, Solbeg provides premium quality IT services to customers across the globe. With extensive technological expertise and wide experience across industries, we develop high-end solutions, helping companies optimize business processes, boost performance, and thereby achieve strategic goals.
We invite you to the company where you can work on projects in the fields of Banking projects, E-commerce, Logistics etc. The choice of a project depends both on the candidate's preferences and the results of an interview.
Salary:
UoP: up to 23 000 PLN brutto.
B2B: up to 26 000 PLN netto.
Requirements:
Able to wear multiple hats, ´do what it takes´- ability and attitude.
Experience: 3+ years.
Strong programming and design skills.
Deep knowledge and extensive experience of the JVM, preferably Scala.
Excellent analytical and problem-solving skills.
Excellent oral and written communication skills in English.
Either permanent residency in Sweden, or commitment to moving to Sweden, preferably near Malmö as the work is on-site in Malmö.
Nice to have:
Event Streaming, e.g Kafka.
Ability to design and implement APIs and REST services.
Experience with one or more application frameworks like Spark, Akka, Play.
Big data ETL and data streaming.
NoSQL Databases.
Experience or knowledge on how to apply Machine Learning or AI on large amounts of data.
We provide:
Work from the office.
Training and development.
Mentor support.
Corporate library.
International projects.
Language courses: Polish, English.
Corporate events.
Team building.
Gifts.
Family picnics.
Charity events.
Great place to work.
Benefits:
Private healthcare (LuxMed Silver).
Sport subscription (Multisport Classic).
Psychological help compensation, mental health support.
4 Sick Days a year, extra days off for special events.
Payments on birthday and special occasions.
Employee referral program.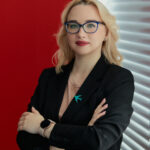 Anastasia Kalosha