Founded in 2008, Solbeg provides premium quality IT services to customers across the globe. With extensive technological expertise and wide experience across industries, we develop high-end solutions, helping companies optimize business processes, boost performance, and thereby achieve strategic goals.
Our project is a platform for facilitation and management in big and huge companies. Apple, Levi's, Nike, H&M, Columbia, Gucci, Swarovski, Walmart, Lego, Adidas, Aldi, Biedronka and 500+ more brands are using our platform. There are 100+ people who work on this project. Everybody works in a team of only around 10 people (6-8 Developers, 2-3 QA, Team lead) having its own area of responsibility in the project.
Salary:
UoP: up to 15 000 PLN brutto.
B2B: up to 17 000 PLN netto.
Requirements:
5+ years of hands-on native iOS development (ObjectiveC / Swift).
You have a deep understanding of building and shipping complex product experiences on frequently updated business-critical iOS apps.
Your expertise with the iOS SDK helps you create scalable, dynamic, extensible, and highly performant applications.
You have a working knowledge of remote APIs, concurrency, layouts, transitions, animations, client-side persistence, and architectural patterns on mobile apps.
You closely collaborate with product managers and designers to help refine (and even define) products and experiences.
You are a strong communicator who enjoys working closely with others while being comfortable with independently delivering broad business outcomes.
Familiar and comfortable with agile methodologies.
Love learning new technologies, practices, and designs.
English at least B1.
Responsibilities:
Extending our iOS SDK with new features.
Execute a full software development life cycle of core systems and infrastructures – such as networking, purchases, login, notifications, downloading, etc.
Ensure stability, security, performance, and architectural cleanliness of our systems.
Stay up-to-date with the latest iOS SDK trends to ensure that the latest mobile devices are supported.
Integrating and supporting third party libraries.
We provide:
Modern Class A office in a dynamic downtown location (Twarda, 18).
Flexible Schedule.
Training and development.
Mentor support.
Corporate library.
International projects.
Language courses: Polish, English.
Corporate events.
Team building.
Gifts.
Family picnics.
Charity events.
Great place to work.
Benefits:
Private healthcare (LuxMed Silver).
Sport subscription (Multisport Classic).
Psychological help compensation, mental health support.
4 Sick Days a year, extra days off for special events.
Payments on birthday and special occasions.
Employee referral program.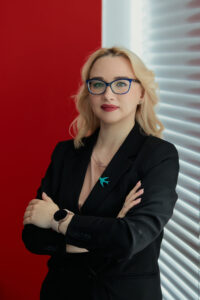 Anastasia Kalosha