Full stack Developer Senior/Lead
Founded in 2008, Solbeg provides premium quality IT services to customers across the globe. With extensive technological expertise and wide experience across industries, we develop high-end solutions, helping companies optimize business processes, boost performance, and thereby achieve strategic goals.
Our client is a company which provides world-class technology platforms for physical and virtual smart locks.
We are looking for a Full stack developer who will be working on a project based on top of cutting-edge technologies. The server-side is running on AWS and is mostly serverless. It's language is Typescript on Node.js, and Federated GraphQL is the API layer. Client-side: React, React-Native and Remix. A strength is set on automation: CI/CD processes are running on CircleCI, deploying infrastructure-as-code. Minimum of legacy code.
Technologies & services: AWS lambda, ECS, API Gateway, SNS, SQS, Postgres, Elasticache, GraphQL, Apollo Server, Terraform, React, Serverless Framework and others.
Salary:
B2B: up to 22 000 PLN brutto.
Responsibilities:
Developing new complex functionality in node.js utilizing software engineering best practices (design, clean code, testing, code reviews, automation, etc).
Improving, optimization and updating of the existing business logic
Collaboration with QA, front end developers, devops, project manager and other team members
Requirements:
7+ years of TypeScript, Node.js experience.
Have practiced Test-Driven Development.
Experience with Continuous Integration & Delivery.
English (at least B1+).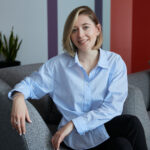 Aneta Kot