Founded in 2008, Solbeg provides premium quality IT services to customers across the globe. With extensive technological expertise and wide experience across industries, we develop high-end solutions, helping companies optimize business processes, boost performance, and thereby achieve strategic goals.
Our project is a platform for facilitation and management in big and huge companies. Apple, Levi's, Nike, H&M, Columbia, Gucci, Swarovski, Walmart, Lego, Adidas, Aldi, Biedronka and 500+ more brands are using our platform. There are 100+ people who work on this project. Everybody works in a team of only around 10 people (6-8 Developers, 2-3 QA, Team lead) having its own area of responsibility in the project.
Salary:
UoP: 6 000 – 12 000 PLN brutto.
B2B: 8 000 – 14 000 PLN netto.
Requirements:
Level of English: Good speaking and writing skills.
1+ years MS SQL Development and solid Server Administration (2008R2 or newer).
Comprehensive knowledge of Transact SQL, Stored procedures, Views, Triggers, Functions.
Experience with SQL Server Integration services (SSIS).
Experience with SQL agent jobs, dbmail, sqlcmd.
Experience with SQL Replication.
Ability to work in a rapidly changing environment.
Ability to multitask and context-switch effectively between different activities and teams.
Strong collaboration and communication skills.
Strong analytical and problem-solving skills.
Will be a plus:
Experience with JIRA.
Experience with Github, Teamcity.
Experience with Redgate DLM, SQL Sentry, PowerShell.
Responsibilities:
SQL Server database administration.
Database design/development.
Development of SQL procedures, triggers, views, functions; SQL query optimization; index management.
Providing database architectural solutions.
Data warehousing tasks.
Monitor DB performance.
System performance and optimization tuning.
Good understanding of query execution plans.
Resolving complex database issues.
Manage database backup/restore.
Work with other engineers to troubleshoot, repair and performance tune databases.
We provide:
Modern Class A office in a dynamic downtown location (Twarda, 18).
Flexible Schedule.
Training and development.
Mentor support.
Corporate library.
International projects.
Language courses: Polish, English.
Corporate events.
Team building.
Gifts.
Family picnics.
Charity events.
Great place to work.
Benefits:
Private healthcare (LuxMed Silver).
Sport subscription (Multisport Classic).
Psychological help compensation, mental health support.
4 Sick Days a year, extra days off for special events.
Payments on birthday and special occasions.
Employee referral program.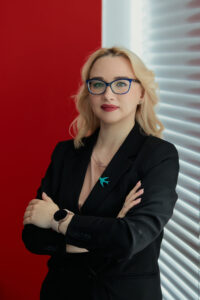 Anastasia Kalosha