Founded in 2008, Solbeg provides premium quality IT services to customers across the globe. With extensive technological expertise and wide experience across industries, we develop high-end solutions, helping companies optimize business processes, boost performance, and thereby achieve strategic goals.
We invite you to the company where you can work on projects in the fields of Fintech, Healthcare, Social Networking, Logistic, Sports and betting, Resource management and other. The choice of a project depends both on the candidate's preferences and the results of an interview.
Salary:
UoP: up to 14 000 PLN brutto.
B2B: up to 16 000 PLN netto.
Requirements:
Minimum of 5 years of professional software development.
Expert knowledge of C# 4+.
Experience writing and maintaining unit tests.
Track record of delivering solutions using microservices, containers, and events.
Thorough understanding of HTTP technologies and REST/JSON interfaces.
Excellent communication and organization skills.
Proven ability to build high-quality products.
English – B2.
Nice to have:
Experience architecting highly scalable backend systems.
Experience with LINQ, functional programming, or the use of first-class functions.
Experience using both SQL and NoSQL databases.
Functional programming experience.
History with production-based greenfield development.
BS in Computer Science or similar.
We provide:
Modern Class A office in a dynamic downtown location (Twarda, 18).
Flexible Schedule.
Training and development.
Mentor support.
Corporate library.
International projects.
Language courses: Polish, English.
Corporate events.
Team building.
Gifts.
Family picnics.
Charity events.
Great place to work.
Benefits:
Private healthcare (LuxMed Silver).
Sport subscription (Multisport Classic).
Psychological help compensation, mental health support.
4 Sick Days a year, extra days off for special events.
Payments on birthday and special occasions.
Employee referral program.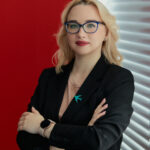 Anastasia Kalosha