Founded in 2008, Solbeg provides premium quality IT services to customers across the globe. With extensive technological expertise and wide experience across industries, we develop high-end solutions, helping companies optimize business processes, boost performance, and thereby achieve strategic goals.
You will join the emerging Business Development department of a fast-growing international company and support its consistent growth. In this role, you will have an opportunity to propose and implement sales strategies and tactics and swiftly advance in your career.
Requirements:
Excellent English (C1), both written and spoken.
The skill of writing clear and convincing business letters.
3+ years' experience in IT sales.
A good 'grasp' of sales and strong communications skills.
Negotiation skills.
Experience working with EU customers.
Energetic and self-motivated. Positive attitude. Get-it-done approach.
A commitment to excellent customer service.
Major Plus:
Wide network of professional contacts.
Responsibilities:
Find new clients for Solbeg services and products.
Initiate and manage relationships with prospective customers.
Cultivate relationships and referrals with relevant decision makers.
Generate new sales leads and opportunities.
Support sales deals from initial contact with a potential client till contract signing, participate in negotiations.
Hold meetings with prospects to discover and qualify their needs.
Give sales presentations to prospective clients (present Solbeg services, expertise and capabilities).
Create proposals and presentations.
Visit professional events to find new prospects and expand company network (ability to travel abroad).
Maintain strong relationships with other Solbeg departments and units.
We provide:
Modern A-class office in a vibrant city center (Twarda, 18). Work from the office.
Flexible working hours.
Flat structure.
Training and development.
Mentor support.
Corporate library.
International projects.
Language courses: Polish, English.
Corporate events.
Team building.
Gifts.
Family picnics.
Charity events.
Great place to work.
Benefits:
Private healthcare (LuxMed Silver).
Sport subscription (Multisport Classic).
Psychological help compensation, mental health support.
4 Sick Days a year, extra days off for special events.
Payments on birthday and special occasions.
Employee referral program.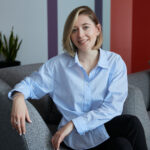 Aneta Kot